Didn't say, "I told you so..."
I've worked with Brett Leyden over the last year selling my house in Camas, WA. It was my pleasure to write this letter due to Brett's professionalism and patience. When we put our house on the market, Brett counseled us as to the right price and marketing strategy. We didn't listen. My ego, or lack of experience selling houses, made me believe the house was worth significantly more than it was. Brett remained enthusiastic and dedicated to us even though we weren't being realistic. As the market demanded, we reduced our price a little at a time. Brett never said, implied or made us feel the inevitable "I told you so". In the end, we ended up selling our house for the amount Brett had suggested a year earlier. During the time our house was on the market, Brett stayed in touch and gave us the information and updates we needed. He made marketing suggestions along the way, and he always got the job done right the first time. He was efficient, punctual, and creative. I would recommend Brett as your realtor. Further, I would trust his judgment. He knows his business and is an expert when it comes to Southern Washington.
Sincerely, Pat Carmody
"We wished you could have been our agent for all of our real estate dealings."
Brett - Both Nancy and I wanted to take a moment to thank you for your excellent service for the sale of our home. Having been on both sides of the fence (buyer vs. seller), we know how this process can potentially be anything but smooth, but rather full of frustration and paranoia. Our experience with you has been by far the most pleasant transaction we have encountered. From the beginning, we appreciated your professionalism, level-headedness, expertise and sense of trust you conveyed. You demonstrated commitment through the entire process, from the initial showing to post closure, ensuring as smooth of a transaction as possible. All in all, we wished you could have been our agent for all of our real estate dealings. Thank you, Brett. You are truly a refreshing and outstanding member of realtors!
- Drs. Chris and Nancy, Camas, WA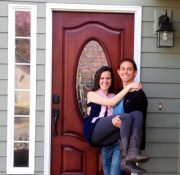 The Perfect Realtor for Us
My wife and I decided to work with Brett based on recommendations from several family members who had used him as their realtor. We are so glad that we did. Brett was the perfect realtor for us. He is extremely knowledgeable about the housing market, the greater Vancouver area, the current mortgage market and how to negotiate with the buyer/seller you are working with. Beyond his professional expertise, he is also personable and friendly, fun to be around and a great partner in the search for a home. He provided personal insight and advice whenever asked (and we asked a LOT), but never pushed us in any direction we did not want to explore. In the end, he ended up knowing our desires well enough to recommend a house to us that we hadn't even found on-line ourselves -- and now it's our dream home that we absolutely love and can't believe we have. Brett continues to help us by stopping by to inspect the hardwood floors we had done, connect us with discounted contractors and to give us his advice on how to best add value to the home. We strongly recommend Brett without any reservations. He is a good, honest man and talented realtor.
-Joe and Rebecca Foster